Our systems biology projects focus on the (mathematical) modelling of various biological processes. Below a brief description of recent projects is provided.
Understanding adaptive immune responses
The main focus is the development of methods to increase our understanding of adaptive immune responses in health and disease. In particular we focus on B cell affinity maturation, which is based on somatic hypermutation of immunoglobulin genes in germinal centers (GC), and the subsequent selection of clones with high antigen affinity. We developed bioinformatics methods to analyse T and B lymphocyte repertoires from RNA sequencing data of T and B cell receptors (Klarenbeek, 2010; Doorenspleet, 2014; van Schaik 2014). The B cell data allows us to study affinity maturation in (autoimmune) disorders through the reconstruction and interpretation of B cell lineage trees. We currently work on a computational method to reconstruct these trees from RNAseq data (Van Schaik, in prep). In parallel we develop an ODE based mathematical model describing centroblast, centrocyte, plasma cell and memory cell populations during affinity maturation (Reshetova, in prep). This model allows simulation of individual B cell clone profiles in a single GC reaction during an immune response, and to construct the corresponding B cell lineage trees. This opens the possibility to interpret experimental lineage trees in terms of the underlying affinity maturation process. We aim to extend the current mathematical model to include T cell populations, and to integrate it with ODE models of gene regulatory networks active in B cell differentiation.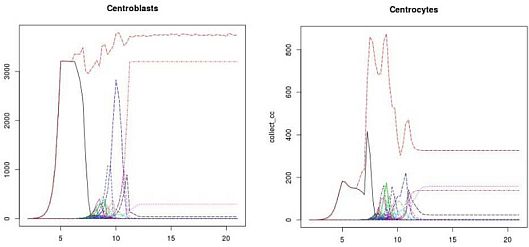 Figure B cell clone profiles. The profiles show the number of cells of individual B cell clones (centroblasts and centrocytes) during a single GC reaction of 21 days. The dotted red line shows the total number of centrolblasts and centrocytes.
Using Petri net models for experimental design
In another project we recently developed a Petri net model of the multi-organ genistein elimination pathway (Reshetova, 2015; Figure 1). A Petri net is a mathematical modelling language to describe distributed systems. We have used this to describe various (metabolic) routes involved in the genistein elimination after dietary exposure to this compound. The Petri net describes transitions of metabolites within or between organs and represent a relative fluxes, which are estimated from experimental metabolite concentration profiles. We demonstrate how this model can be used for experimental design to determine which metabolites should be measured and in which compartments to obtain precise estimates of the relative fluxes.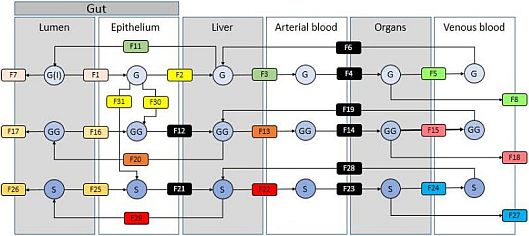 Figure Petri net model. Petri net model of the human genistein multi-compartment elimination pathway. This model includes three metabolites (G - genistein, GG; genistein-7-glucuronide; S - genistein-7-glucuronide-4-sulphate) that travel within and between six compartments (organs, blood). G(I) is the input place. Each transition is associated with a fraction (F) indirectly representing a flux.
Metabolic flux analysis
We also applied computational approaches to understand how cellular systems react towards perturbations of their steady state, the metabolic dynamics have to be described. In particular, we applied MetDFBA (Metabolite Dynamic Flux Balance Analysis; Willemsen, 2015) to estimate dynamic flux profiles from 13C mass isotopomer measurements. We demonstrated how MetDFBA can be used for the estimations of fluxes from intermittent glucose feeding cycles during Penicillium chrysogenum cultivation may. This may lead to new hypotheses on the regulation of metabolism responding to changing environmental conditions.
Multiscale modelling of plasma cell differentiation in germinal centers
The adaptive immune system is a key component of our defense against pathogens and comprises highly specialized cells and processes. Its humoral component is responsible for memory B-cell formation and high-affinity antibody (Ab) production resulting from affinity maturation in germinal centers (GCs; Victora, 2010). Mathematical modelling has contributed to our knowledge on the GC. Agent-based models (ABMs) are used to simulate the GC at the cellular level (e.g., Meyer-Hermann, 2009) while ordinary differential equations (ODEs) can be used to model the dynamics of underlying gene regulatory networks. The diffusion of chemokines, which play a key role in maintaining the GC morphology, is modelled with partial differential equations (PDEs).
We aim to develop a multiscale model of the GC reaction, which integrates B-cell dynamics with a gene regulatory network involved in BCR and CD40 signalling and responsible for plasma cell differentiation (Martinez, 2012). This multiscale model will allow us investigate cellular signalling events on the GC cell population. Such model will increase our fundamental understanding of the normal and disturbed GC.
Our ABM is based on existing models developed by Meyer-Hermann (e.g., Meyer-Hermann (2012)). It describes B-cell behaviours in the GC including proliferation, SHM, selection and differentiation. The zonal GC morphology is implemented through a double chemokine gradient. In the dark zone (DZ) border, stromal cells secrete CXCL12 that attracts centroblasts (CBs); while in the light zone (LZ) follicular dendritic cells (FDCs) secrete CXCL13 to attract centrocytes (CCs). As stromal cells and FDCs are assumed to be immobile, the diffusion equation for both chemokines is precalculateded at the start of each simulation. The plasma cell differentiation network is implemented as a set of ordinary differential equations (ODEs) and integrated with the ABM. Effectively, at the intracellular level, we embedded the system of ODEs independently into each B-cell. Contacts between B cells, FDCs and T follicular helper cells (Tfh), result in signalling and, consequently, a change in the states of the transcription factors (BCL6, IRF4, BLIMP, Caspase). This will trigger and affinity-depended differentiation from CCs to PCs. One of the challenges is to link the parameters of the cell-based model (e.g., proliferation, differentiation, apoptosis rates) with parameters of the gene regulatory network (e.g., transcription factor levels, kinetic constants, BCR/CD40 signals).
Plasma cell differentation
References
Martínez, M.R., Corradin, A., Klein, U., Álvarez, M.J., Toffolo, G.M., di Camillo, B., Califano, A., and Stolovitzky, G.a. (2012). Quantitative modeling of the terminal differentiation of B cells and mechanisms of lymphomagenesis. PNAS, 109, 2672-2677.
Meyer-Hermann, M., Figge, M.T., and Toellner, K.M. (2009). Germinal centres seen through the mathematical eye: B-cell models on the catwalk. Trends Immunol 30, 157-164.
Meyer-Hermann, M., Mohr, E., Pelletier, N., Zhang, Y., Victora, G.D., and Toellner, K.M. (2012). A theory of germinal center B cell selection, division, and exit. Cell Rep 2, 162-174.
This project was received support from Coordinating Action Systems Medicine (CASyM)