For shipment of samples please use the following address label: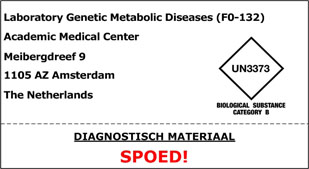 Please:
Follow the specific shipment instructions for the requested test;
Include the completed test request form found on the webpage of the required test;
Label the sample(s) unambiguously (at least name and date of birth);
Check our opening hours for sample receipt
Sample receipt can only take place from Monday until Friday Noon (12:00 GMT+1.00)
Our laboratory is closed on the following holidays:
New year's day January 1st
Good Friday
Easter
Kings day April 27th
Labour day May 1st
Ascension day
Pentecost
Christmas December 25th and 26th
Shipping costs are the responsibility of the referring clinician and/or medical center. Our laboratory does not accept responsibility for shipping costs associated with samples sent to us. Note that this may include additional charges for custom clearings.
For prenatal testing please contact the laboratory before sending samples.
Request forms:
Contact
For regular mail only (NOT for sample shipment)
Academic Medical Center
Laboratory Genetic Metabolic Diseases (F0-132)
P.O. Box 22700
1100 DE AMSTERDAM
The Netherlands
Phone: +31 20 5665393
Fax: +31 20 6962596
E-mail:
Metabolite diagnostics gmz_metab@amc.nl
Enzyme diagnostics gmz_enzym@amc.nl
DNA diagnostics gmz_dna@amc.nl